Description
Forget your troubles, come on, get happy…
Happy Taffy from Herban Bud isn't just a candy; it's a trip down memory lane with an adult twist. Each piece, whether you're savoring the tartness of Green Apple, the zesty punch of Lemon Drop, or the fruity blend of Tutti Frutti, promises a taste reminiscent of childhood. But here's the twist: each taffy is infused with 20mg of superior Delta-9 THC, making it a sweet, enjoyable way to dose.
What's more, our taffies aren't just delicious; they're award-winning! Having clinched the title of 'Best Taffy' by Edibles List Magazine not once, but twice in 2020 and 2021, we're proud to say that our taffies are a cut above the rest.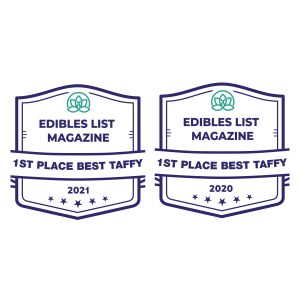 Delta-9 THC, the primary cannabinoid in full-spectrum cannabis, is known for its classic uplifting and relaxing effects. Rest assured, all our taffy edibles are compliant with the 2018 Farm Bill, containing less than 0.3% hemp-derived THC by dry weight volume, making them federally legal.